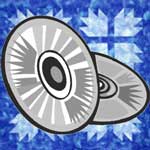 MQX 2008 Photo Disc
How To use This Disc
Back To Title page
You are viewing the demonstration version of the MQX 2008 photo disc, which uses lower resolution master images than the DVD version. This demonstration contains images of only eight quilts, 16 candids, and omits the video slide show, music, and all but one of time lapse videos that are present in the DVD version.
A typical photo page includes the following features: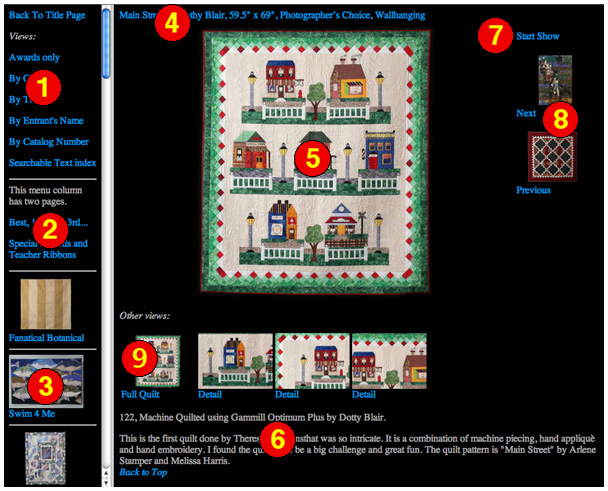 is a menu that takes you to other views. From here you can choose the ordering of the images to view, or go back to the top page.
is a menu that switches pages in the "thumbnail" menu column.
is a thumbnail image of each photo, click on one to jump to that specific image.
is the title, entrant, and awards this entry received at MQX 2008
the main photo. If you click on this image, another window will open with the high-resolution image for extreme close-up examination, or for printing. Opening in another window may be prohibited by pop-up blocking software. If so, you must allow the pop-up to proceed to get the high-resolution image to appear.
more detailed information and description of the entry.
this link, "start show", will start a slide show. In this mode, the next photo is opened automatically every few seconds. Clicking on any link will stop the slide show.
the next and previous photos in the slide show. These usually appear to the right of the main photo (as shown), but if your browser window is too narrow, they will appear below the main photo.
alternate views of this quilt or garment, such as close-up details, or a photo from the fashion show.
How To Print a Photo
This disc contains high resolution photos suitable for printing, either on your local computer printer, or at a professional photo finishers.

The high resolution images of show entries have been cropped to a 3:2 aspect ratio of the typical 4"x6" photo. While the photo may be printed larger or smaller, one must account for this when printing. To print a single photo on your computer printer:
open the high resolution image in another window as described in #5 above
Use the Page Setup feature to choose the correct paper size and orientation.
Print
Where Are The Photos?
To use these photos as desktop wallpaper, or to print at a photofinisher, you need to be able to find them.

\MQX08\quilts\master\ contains the high resolution images of the quilt entries, suitable for printing.

\MQX08\quilts\web\ contains the screen resolution images of the quilt entries.

Copyright law permits your printing of these images for personal use, but not for redistribution. See copyright.html.