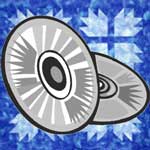 MQX 2008 Photo Disc
Copyright information
Back To Title page
Photo Copyright Information
Except as noted below, all the images on this disc are ©2008 Jeffrey Lomicka. Please observe the following guidelines for usage.
Copyright grants generous fair use provisions, allowing you to use the photos for personal use. You are permitted and encouraged to use them for such things as computer screen wallpaper, print to hang in your home, and use for inspiration.
Public display, public Internet access, or publication of any of these photos or derivative works requires license. Unless you qualify under one of the terms below, you need to contact the copyright holder(s) for permissions and rates. In most cases, this means contacting Jeffrey Lomicka and the owner of the quilt in question.
If you are the owner, piecer, or quilter of a quilt or garment depicted, you have special permission to use the images of your own work in your personal publications, such as business cards, advertising, fliers, newsletters, and published advertisement space (but not in published articles). You may also use the images on your personal web site, but may post only your own quilt and garment pictures, and only up to the size of the image in the "web" folder, not the high resolution images from the "master" folder.
The back stage photos in the Fashion Show section are ©2008 Terry Burris, used by permission.
The license plate photos are ©2008 Klaus Diercks, used by permission. Klaus also provided a few of the candid photos.
Photo Contact Information
Submit requests for publication to:
At least one of these e-mail addresses should still work:

(E-mail links redacted from demo to prevent abuse by spammers)
All HTML code on this site is ©2008 Jeffrey Lomicka, all rights reserved.